The Outbraker Brake Splitter & Booster has been specially designed for cyclist who need to control the front and rear brakes with one hand. The first Brake Splitter for hydraulic bicycle brakes, designed specifically for people with special needs and reduced mobility. Our device allows 2 brakes to be operated with just 1 lever for optimal braking.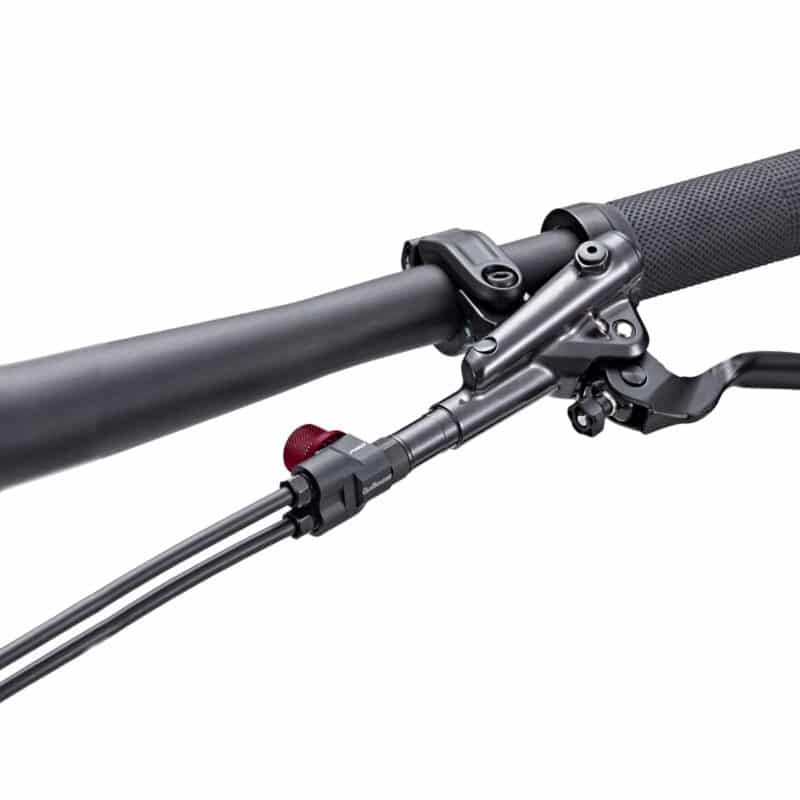 A few years ago, we determined that cycling should be an attainable sport for everyone. For that reason, we decided to design and develop a product 100% oriented to those cyclists who need to brake both wheels with only one hand.
SPECIALLY DESIGNED FOR PARACYLIST
✅ 1 LEVER 2 BRAKES: The brake Splitter & Booster allows you to control the front and rear brakes with 1 single lever. It distributes braking optimally (50% – 50%), providing symmetrical and safe braking (Splitter functionality).
✅ MAINTAIN THE FEEL OF YOUR LEVER: The Booster function allows you to regulate the pressure of the dual hydraulic circuit as if it were a single circuit, avoiding loss of power. You will be able to maintain the firm feel of your brake lever, even with worn brake pads.
✅ REDUCE YOUR BRAKE MAINTENANCE: Reduce la necesidad de sangrados y purgados del circuito hidráulico alargando, además, la vida útil de tus pastillas de freno
❕ BRAKE BOOSTER
In addition to the "Splitter" functionality, OutBraker has added the "Brake Power Booster" technology to create a unique device that seeks to offer an optimal braking experience in any situation (also with a single lever).
HOW DOES BRAKE POWER BOOSTER TECHNOLOGY WORK?
En algunas ocasiones, al accionar la frenada de 2 circuitos de freno a través de una única maneta, puede surgir el problema de que la maneta no entregue suficiente potencia para operar ambos circuitos. Al añadir la funcionalidad Power Booster podemos graduar la presión del circuito hidráulico y por lo tanto la potencia de frenada. El tanque graduable permite incrementar la presión en el circuito hidráulico, para así aumentar la potencia entregada a los pistones.
Sometimes, when braking 2 brake circuits through a single lever, the problem can arise that the lever does not deliver enough power to operate both circuits. By adding the Power Booster functionality we can adjust the pressure of the hydraulic circuit and therefore the braking power. The adjustable tank allows to increase the pressure in the hydraulic circuit, thus increasing the power delivered to the pistons.
Recommendation: We do not recommend turning the dial to the maximum as it is too much power and could even burst the internal circuit of the lever.
WHO USES THE OUTBRAKER BRAKE BOOSTER & SPLITTER?
We are honored that athletes, and above all people, like Alex and Kini use the Outbraker Splitter on a daily basis and recommend it to their entire community.
Álex Sánchez Palomero: Spanish Paralympic triathlete, winner of 3 world sub-championships, 2 European championships and 1 bronze medal in Tokyo 2020.
"Kini" Carrasco: Spanish Paralympic triathlete winner of 19 World Championships, 19 European Championships and 20 World Cups and series.
ℹ️ TECHNICAL SPECS OF BRAKE SPLITTER AND BOOSTER
Material: Aluminium and stainless steel
Weight: 24 g
Dimensions: 29,8 x 29,9 x 21,5 mm
Power range: up to 180%.
Compatible with oils: synthetic and mineral oils
Warranty: 3 years